The little bear is sleeping soundly, a load of laundry is hung up on the clothesline (a method I've picked up from my German neighbors that the environmentalist in me loves), an hour of yoga practice is completed, and I'm finding myself reminiscing about what an amazing day I've already had this fine Friday.
Living so close to the Army post means we get to enjoy breakfast together as a family almost every morning. Little r wakes some time before 7 a.m. and Big R doesn't have to be in the office until 9. This is a far cry from the hussle and bussle mornings we were accustomed to in Virginia.
This morning was especially lovely because the sun was out, and the air was still crisp making it a pleasant time to sit out on our porch together to enjoy the view and drink a cup of jo (and a cup-o-milch alla sippy cup).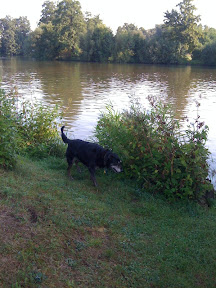 Big R walked his bike as we followed behind on the stroller with pup in tow as we headed for our favorite local backerie or bakery. Big R headed east towards the office and we took a nice morning stroll along the river. Puppy even got an early morning dip.
Inspired by the beautiful day, I packed up little r in his swimsuit and loaded him onto the bike for a mini-adventure. The town adjacent to ours claims to have a freibad or outdoor pool, and it had our name written all over it this fine morning, that is, as long as I could find it! Believe it or not (and I'm still shocked at this fact) I found it easily, just didn't quite anticipate so many hills. Mommy got a workout this morning as she cranked her legs up each inch - ok, so maybe I had to walk the last hill, but it was seriously a mountain and little r adds some weight, so give me a break, people.
We made it to the freibad and after my mountainous bike ride, I couldn't have been more ready for a cool dip. It was such an amazing little place. The Germans do everything well. The environment was beautiful, the setup was perfect, and the price was right (der kinder kosten nicht and my ticket was only 3.50 EUR).
I think we could have stayed all day if the fair-skinned child and his mom would have been able to handle the sun for more than a couple hours. Despite not wanting to leave, little r let me pull him away without too much of a fight. He coasted quietly on the back of my bike as we headed home (only got lost once - I swear). Bye-bye, schwimmbad...
We shared some lunch and watched a little Nemo before little r headed off to dreamland.
If this is a snapshot of my life here, pinch me because I might just be dreaming. I know I will get restless without work before long, and there are prospects in the pipeline, but it is my goal to enjoy this precious time with my family until it's time to return to the working world. Instead, I will have a cold brew in hand for Big R as he walks through the door because I know this has been a very busy week in legal defense world.
Happy Friday everyone! I hope our friends and family in Richmond, DC, and in New England fair hurricane Irene unscathed. You'll be in our thoughts!
- Posted using BlogPress from my iPhone