We started off the day early so that I could get to post and take the dreaded driving test. Somehow this little miss walked away an authorized driver - look out Germany!
Things wrapped up earlier than expected, so Big R suggested I have a little adventure and explore on my own. I grabbed a bus ride into town and began my touristy stroll through one of the most beautiful cities in Europe.
After I had a "crepe with charm," which was easily the best dish I've ever received from a cart, I headed over to the Rathaus or townhall. It is one of the most photographed buildings here and you can see why.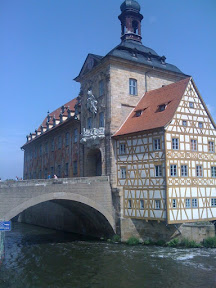 The town also has many churches and most were built near the turn of the millennium. This town was somehow spared distruction during the two world wars, so these churches are still in original form. I took a circuitous route through town and saw 5 of these amazing churches. I don't generally consider myself religious, yet I felt a holy presence inside these ancient structures.
After multiple attempts at getting lost, I finally reached the Dom. It can be seen from anywhere in the city due to its prominent steeples. Yet somehow I walked circles around the place. I blame the heat...
The Dom was built in 1007. I still can't get my head around that. The structure is actually quite simple and plain inside its doors but its history is anything but...
It was a hot August day and I wasn't dressed or prepared for it. When I finally reached the Dom I found water and relaxed in the courtyard. Big R was taking little r on the boo bus to join me.
Here a couple more pictures I took of this sweet German town.
We found ourselves at a biergarten, of course, and experienced our first rauchbier, or smoked beer. It is the beer of this region so we had to give it a try despite that it smelled like an ashtray. Not a huge fan, but that of course did not stop me from a pint or two.
After a couple pints and some local cuisine we worked our way home along my favorite stretch of town the locals call "little Venice."
- Posted using BlogPress from my iPhone